Rural tourism in Kyrgyzstan
Community Based Tourism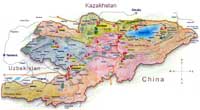 Kyrgyzstan rewards the traveler with unspoiled natural beauty, a unique cultural heritage, and the freedom to explore both. Ninety-four percent mountainous, the country boasts perpetually snow-capped peaks, roaring mountain streams, and jailoos, summer pastures high above the timberline carpeted with nothing taller than wildflowers. This fascinating land is the home of the Kyrgyz, a unique people who have lived in these pastures in felt tents or yurts for ages.

While following their flocks, they weathered not only the elements but also an influx of cultural ideas - Islamic, Czarist and Soviet - that left only the slightest of marks. They have preserved their folklore, music, and handicrafts, and today welcome visitors with the same curiosity and openness that characterized their ancestors who first opened their yurts to weary travelers and hospitably invited them inside.

Things to do:

Hike along a mountain slope or through a jailoo, a summer pasture, enjoying fields of edelweiss and poppies, the silence pierced only by the occasional cry of an eagle or the pounding of your own heart.

Ride horseback along trails and free ranges that open onto vistas rimmed with snow-covered peaks.

Sunbathe on the sandy shores of Lake Issyk Kul or swim in its warm waters while watching the clouds roll and tumble over the surrounding mountains.

Shop for all the treasures of Asia in ancient Silk Road bazaars.

Sleep in yurt as the guest of a Kyrgyz family, sampling national dishes and drinking kymyz, the traditional fermented mare's milk of the nomads.

Make traditional felt crafts as shyrdaks (felt carpets).

Learn folk songs and dances that keep alive an ancient oral tradition and preserve the music of the komuz.

Watch and enjoy falconry and eagle-hunting, and horse games such as ulak tartysh, similar to polo but with a goat carcass instead of a ball.

Witness the rituals, customs, festivals, and sacred traditions of these descendants of ancient nomads.

Live on the slopes of the Tien-Shan, the "celestial mountains".

Experience Kyrgyzstan with your heart and soul!

Background
"Community based" is the philosophy of supporting products, services, knowledge and practices found in local communities and offered by local stakeholders. In 2000, villagers in Kochkor initiated the first community-based tourism (CBT) group.

In March 2002, the Kyrgyz CBT Association "Hospitality Kyrgyzstan" (KCBTA) was established to develop and market community-based tourism in Kyrgyzstan. The members of KCBTA are local CBT organizations. KCBTA aims to showcase each region's best attractions, to strike a balance between reasonable prices and the highest possible quality, to lobby for the interests of rural tourism providers at the national level, and to increase communication among rural tourism providers, government, the private sector, and travelers.

Today, 15 CBT organizations with more than 300 members all over Kyrgyzstan invite you to experience the uniqueness of nomadic life. CBT allows the conscientious traveler to enjoy the beauty of Kyrgyzstan and encourage countrywide economic development without compromising national traditions or the environment. KCBTA is supported by Helvetas, a Swiss Association for International Cooperation, which provides technical assistance in marketing and institution building.

Where your money goes
The money you spend will help form and strengthen local institutions, build infrastructure, develop local income sources, conserve natural and cultural heritage, and fund the information and services we provide for you.