Bishkek museums
Museums of Kyrgyzstan

The Historical Museum - Ala Too Square - Tue-Sun 10:00-15:00
This used to be called the Lenin Museum - and some older residents still refer to it as such. The ground floor houses temporary exhibits but the permanent exhibits depict the natural and political history of the country and the Soviet heritage. There is a statue of Lenin leading the revolutionary masses and a ceiling mural of a wedding party attended by the melting pot of the nationalities of the Soviet Union. The historical museum began life in 1926 in the "boyhood home" of Mikhail Frunze, now preserved as the Frunze Museum - in 1937 it was transferred to what is now the Friendship building (see Zoological Museum) before moving to it's present home in the 1980's.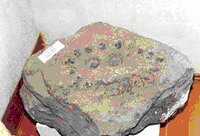 Exhibits include stones with petroglyphs from Saimaly-Tash; armor and everyday objects dating from the Bronze Age; discoveries from archaeological excavations such as early nomadic adornments dating from the 1st to the 5th centuries (AD) - including golden artifacts from the Chui Valley's Shamshyn tomb; a Turkic stone culture collection; Talas stones with runic lettering; ceramic, glass and metal articles; and numerous ancient coins.

The museum has rich ethnographic collections of objects from the late 19th and early 20th centuries which include articles made of felt, wool, chuy, leather and wood made by Kyrgyz artisans; and collections of traditional Kyrgyz embroidery, fleecy and non-fleecy weaving, national dress, original women's adornments, and highly artistic horse harnesses. Many visitors also find of great interest materials from the Soviet period such as the collections of documents, photographs, paintings, drawings, sculptures, and gifts presented to the Kyrgyz Republic by foreign governments.

The Museum of Fine Arts - 196, Sovietskaya - Tue-Sun 09:00-17:00
Dedicated to Kyrgyz folk and applied arts; Russian and Soviet Art - the museum began as the State Picture Gallery and was located in St. Nicholas Church in Oak Park. The Church now houses the Gallery of the Soviet Artists' Union.

The present building was built in 1974 as one of the projects in the grand scheme for improving the capital and features a yurt and a permanent exhibition of shyrdaks and other traditional crafts. The full collection numbers some 17,500 works of art: paintings, drawings, sculptures and examples of traditional decorative and applied arts. There are also several galleries of paintings from the Soviet period, a room of replicas of Egyptian, Greek and classical Western sculptures, and a collection of linocuts by Hertzen based on the Manas epic. The museum also houses temporary exihibits.

Frunze Museum - 346, Frunze - Tue-Fri 09:00-17:00; Sat-Sun 09:00-16:00
The museum traces the life and career of Mikhail Frunze - and what is supposed to be the house in which he was born and brought up is preserved on the ground floor (although there is some doubt whether this is the right house - it is typical of the period) - and there is an exhibition of the achievements of the city and Kyrgyz Republic during the Soviet period.

Less well known are:

The Tinibek Sadykov Museum - Togolok Moldo - Mon-Fri 09:00-12:00 + 13:00-16:00
This museum contains some of the smaller works of the Kyrgyz monumental sculptor Tinibek Saykov, some of whose larger works can be found in the Philharmonic, The Matyrs to the Revolution at the corner of Prospect Chui and Sovietskaya and in Victory Square.

The Aaly Tokombaev Museum - 109, Chuikova - Mon-Fri 09:00-17:00
Tokombaev was a famous Kyrgyz akin (bard), poet and composer, and his house has been turned into a museum dedicated to his life and work. He helped to standardize written Kyrgyz using a modified Cyrillic alphabet. There is an exhibition dedicated to the exodus of many Kyrgyz to China in 1916 following the uprising against the Russians. (There is a statue of Tokombaev to the South of the Fine Arts Museum).

The Gaspar Aitiev Studio - on the corner of Tynystanova and Chokmorova.
Aitiev was a painter and sculptor and the museum is housed in what was his studio and houses some of his work including landscapes, sketches in charcoal, and pastels and sculptures from driftwood.

The Semeni Chuykov Museum - 87, Chuykova

The Open Air Sculpture Museum - in Oak Park

Inaugurated in 1984 to mark the 60th Anniversary of the Kyrgyz Republic, sculptors from all over the Soviet Union were invited to submit pieces under the title "Peace and Labor" and their work was exhibited in the park. Many of the metal pieces, including a bronze bust of Yuri Gargarin, have since disappeared - plundered, stolen, for their scrap value.

The Toktugulok Literary Museum - 109, Toktogula - Mon-Fri 08:00-12:30 + 13:30-17:30. Dedicated to Kyrgyz literature - this museum has many papers, photos and memorabilia.

Mineralogical Museum - 164, Propect Chui - Mon-Fri 09:00-15:30
Contains examples of minerals found throughout the country.

The Zoological Museum - 78, Pushkin Street - Mon-Fri 10:00-17:00
Contains displays of taxidermy (reptiles, birds, mammals, invertebrates), native to Kyrgyzstan - and some more exotic. There are also some live reptiles. The building, (Friendship House - Dom Druzhby), was the first seat of the Republican government built by the Interhelp volunteers in 1927, (there is a time capsule in the cornerstone), but when the Supreme Soviet building in the old square was completed, this became a Historical Museum.

The National Bank Museum
Contains examples of money - coins, banknotes, treasury documents - both real and counterfeit.

The Ala Archa National Park Museum - a few kilometers inside the park - The two story building houses the administration offices of the park and has a room dedicated examples of the wildlife found here and around Issyk Kul.

The National Library - although not strictly a Museum, the library has over the years since it was founded in 1934 become one of the major repositories of culture in the country. It moved into its present home on Sovietskaya in 1984 - to mark its 50th anniversary. The library collects copies of all literature published in the country, as well as a variety of publications from other CIS countries and further afield. There are a total of over 6 million documents (books, magazines, newspapers, sheet music, records, patents and other reference documents and some 97,000 Doctoral dissertations, as well as the private papers of several prominent people) in 89 languages - including a copy of the first book ever to be printed in Russian - "Apostol" which was printed in Moscow in 1564. The library adds some 120 thousand items every year.

Interestingly, there are books in Kyrgyz written in Arabic, Latin and Cyrillic scripts - reflecting the various changes that have taken place in the transformation from an oral, nomadic tradition. It also houses a number of exhibitions and conferences every year.

Unfortunately, the following are closed at the moment for renovations:

The Archeological Museum - in the Academy of Sciences

The Geological Mueseum - 30, Erkindik