Discovery of the lakeside
Biking in Kyrgyzstan. Mountain biking tour in Kyrgyzstan
Request for tour price & booking >>>

Tour Duration: 8 Days
Season: Middle of June - September
"The aquamarine in the silver setting of mountains" - this is how the famous traveller Semionov-Tianshanski has characterised Issyk-Kul lake. It is the second largest mountain-lake (1,600 m above sea level) after Lake Titikaka in South America. By depth, (668 m) and water volume it is one of the biggest in the world. The average water temperature in Summer is 19-22oC.

We offer you to make a trip on a southern part of the most beautiful lake of Central Asia. Pedalling on your bike you will ride through gorges and canyons, camping on the shores of cool mountain springs and crossing mountain passes. As a prize will be a last night on a shore of Issyk-Kul lake - this Pearl of Kyrgyz nature.

Travel itinerary: Bishkek - Issyk-Kul Lake - Bishkek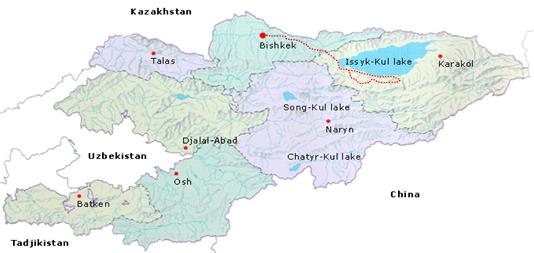 Day 1. Arrival in Bishkek early morning. go on a city tour and stay overnight in a guest house.

Day 2. Transfer to the small village on a southern shore of Issyk-Kul Lake. From here you will start your riding. Cycling for around 11 km will bring you to the beautiful campsite on the Tuura-Suu River. Overnight in tents (1867 m above sea level).

Day 3. Way starts along Tuura-Suu River and then after passing Ala-Bash Pass (2370 m) you entering to so called "Second Valley" - Valley of Ala-Bash. This day camp is on the confluence of Kara-Suu and Ak-Terek Rivers. Day distance around 47 km. Overnigt in tents (1900 m).

Day 4. This day road goes through Konur-Olen Valley. During cycling you will have a possibility to see a life in a remote Kyrgyz villages. Flower fields aside a road add some nice filling to your pedaling under hot sun. Descending from the pass (2300 m) brings you to Korumdu River where is a campsite. Day distance around 48 km. Overnight in tents (1940 m).

Day 5. Riding down to Bokombaevo village (1836 m) and short stop there. Further road goes up to the pass (2540 m) along Ak-Terek River. From the top of the pass is a nice sliding down along Tosor River. Old road brings you to the main road and further to lake. Day distance around 63 km. Overnight in tents on the shore of lake (1623 m).

Day 6. Day on the shore of Issyk-Kul. There are three options for this day:
a) staying at beach;
b) excursion to Tamga-Tash - site with Buddist stone inscription (around 40 km);
c) excursion to Skazka (Fairy Tail) Canyon - natural clay formation of different shapes and colors (around 25 km).
Overnight in tents on the shore of lake (1623 m).

Day 7. Last part of your trip brings you to Bishkek. Transfer by car (320 km). Accommodation in a guest house.

Day 8. Transfer to airport early in the morning. Fly home.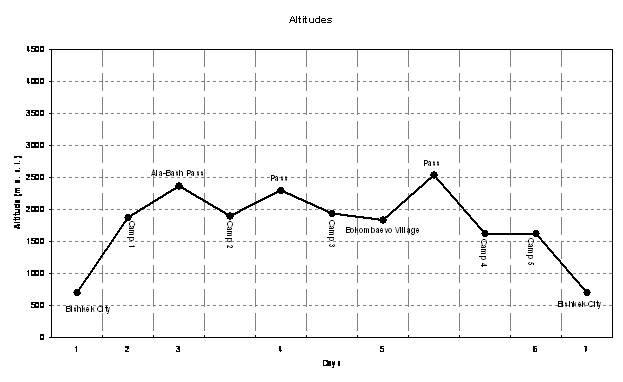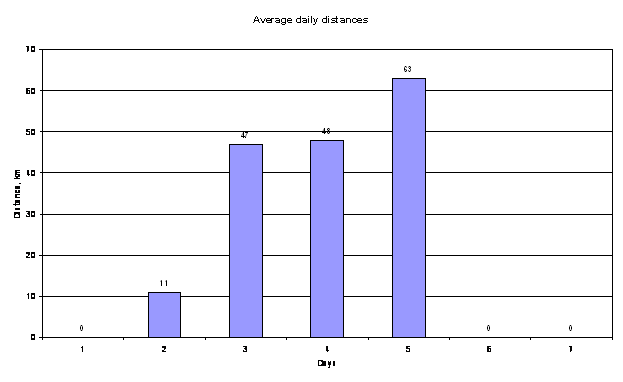 We hope you like the program and assure you that we are absolutely open to any suggestions to increase the range of our services for the entire satisfaction of our clients and are happy to meet your special requirements.
You can alter the duration of your tour and places of visits by adding one of the extensions. Our tour operator will work closely with you or your travel agent to carefully prepare an itinerary based on your stated interests.
Request for tour price & booking >>>