400'000 turnovers on Kyrgyz roads
Biking in Kyrgyzstan. 400'000 turnovers on Kyrgyz roads. Mountain biking tour in Kyrgyzstan
Request for tour price & booking >>>

Tour Duration: 15 Days
Season: July - middle of September

Each of us in the mind would like to be a discoverer of the new routes and countries.
Alas, but in our days almost everything are founded and explored.

We would like to draw your attention to one of the last nook of untouched nature. Your route will go in the centre of majestic mountain range Tien-Shan.
You will share the mountain roads with shepherds - the permanent inhabitants of those places.

Beautiful scenery, views that are opening from the passes are able to take your breath. Mountain roads with slopes, rises and passes will give an adventure spirit that inherent in the real bicycle tour.

Travel itinerary: Bishkek - Issyk-Kul Lake - Naryn - Son-Kul Lake - Bishkek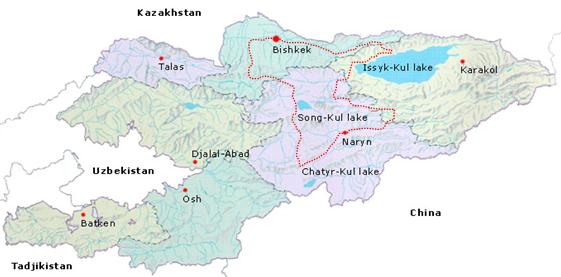 Day 1. Arrive in Bishkek. City Tour. Overnight in a guest house.

Day 2. Transfer to Chon-Kemin Valley by car (distance 170 km). Start of cycling up along Chon-Kemin River (distance around 20 km). Overnight in tents (2200 m above sea level).

Day 3. Cycling along Chon Kemin River to the foot of Kok-Airyk Pass. Distance of cycling around 35 km. Road has no steep lifting. It is uncovered road in good condition. Overnight in tents (2650 m above sea level).

Day 4. Cycling over Kok-Airyk Pass (3913 m). To the top of the pass around 15 serpentines of uncovered road with some stoned places. On the top of the Kok-Airyk Pass probably crossing of not big snow fields. It is an area of small glaciers. From here you will a nice view of Issyk-Kul Lake in if weather allows. Generally road of good condition. After descending cycling on a main road (15 km) to Cholpon-Ata. In total distance around 65 km. Accommodation in a guest house.

Day 5. It supposes to be a lazy day. Till lunch you can stay under the tender sun on a beach. After lunch transfer by car to Kochkor village (1800 m above sea level). Approximate distance around 140 km. In Kochkor you will visit a felt carpet shop, where craftswomen will show you the process of making felt goods, step by step. Family run accommodation and traditional Kyrgyz dinner.

Day 6. Cycling from Kochkor village to Sary-Bulak village on a main road (around 40 km). Then cycling on uncoveredoad along Kara-Kujur River (35 km). Overnight in tents (2600 m).

Day 7. Cycling up to Jalpak-Bel Pass (3350 m). Sliding down to confluence of Kara-Saz and Kichi-Naryn Rivers. Day distance around 70 km on good uncovered road. Overnight in tents (2700 m).

Day 8. This day road goes along Kichi-Naryn Valley - tributary one of biggest river in Central Asia - Naryn. For overnight you will stay in beautiful Sary-Kungei Gorge. Lunch on a camp site. After lunch optionally hiking up to Sary-Kungei Gorge. Day distance 35 km. Overnight in tents (2500 m).

Day 9. This day way goes firstly along Kichi-Naryn River to confluence with a Naryn River. This place called Eki-Naryn(it means Two Naryns). Than way goes along Naryn River to Naryn. Distance around 70 km. Family run accommodation in Naryn (2075 m).

Day 10. Transfer by car over Kyzyl-Bel Pass (2620 m) to Tash_Rabat (135 km). Visiting of ancient Caravanserai Tash-Rabat (XI century). Overnight in yurta of local family (3050 m).

Day 11. This day cycling over 2 passes: Kulak-Ashuu (3400 m) and Beurailu (3400 m). Lowest point between passes situated on 3000 m above sea level. From the top of Beurailu Pass opens nice view to valley of Naryn River. After finishing of sliding from Beurailu Pass truck picks up people and transfer to confluence of Kurtka and and Kol-Kaiyng Rivers (80 km). Cycling distance around 70 km. Overnight in tents (2050 m).

Day 12. Half day cycling to Son-Kul Lake (distance around 35 km). Croossing Moldo-Ashuu Pass (3250 m) and camp on a shore of Son-kul Lake (3020 m). Song-Kul Lake is the second largest lake in Kyrgyzstan. This lake is summer pasture for local people. Overnight in tents (3070 m).

Day 13. From the morning cycling up to Kara-Keche Pass (3384 m). After descending from pass by its serpentines you will have a look on open air coal mines of Kara-Keche. Then cycling through the fields to Chaek. This last sliding down on small but good earth road is breath taking experience. On distance around 15 km altitude drops down around 600 m. Day distance around 70 km. Family run accommodation in Chaek.

Day 14. Transfer by car to Bishkek (around 250 km) through the tunnel on Too-Ashuu Pass (3586 m). Overnight in a guest house.

Day 15. Flight home.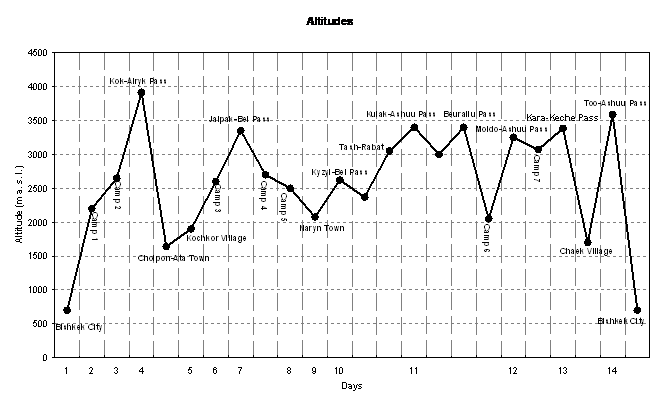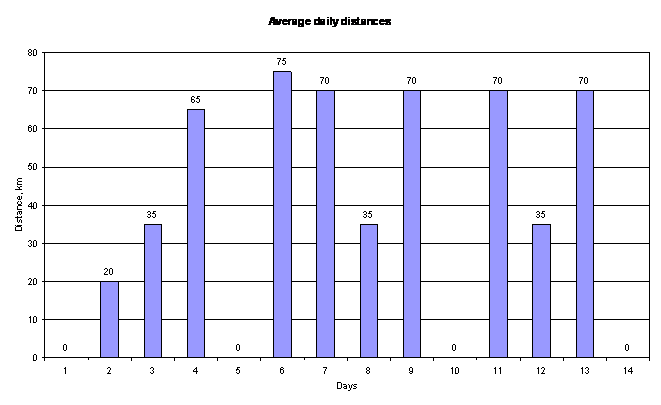 We hope you like the program and assure you that we are absolutely open to any suggestions to increase the range of our services for the entire satisfaction of our clients and are happy to meet your special requirements.
You can alter the duration of your tour and places of visits by adding one of the extensions. Our tour operator will work closely with you or your travel agent to carefully prepare an itinerary based on your stated interests.
Request for tour price & booking >>>